An oil platform, offshore platform, or offshore drilling rig is a large structure with facilities for well drilling to explore, extract, store, and process petroleum and natural gas which lies in rock formations beneath the seabed.
This post showcases some of the offshore platform types that can be found around the world. Do you want to see more examples and with it icon designs please get in touch!
Spar Platform
A spar is a type of floating oil platform used in very deep waters, and is named for logs used as buoys in shipping that are moored in place vertically. Spar production platforms have been developed as an alternative to conventional platforms. A famous example is the world's deepest production platform Perdido found in the Gulf of Mexico
Semi-submersible platform
A semi-submersible platform is a specialised marine vessel used in offshore roles including as offshore drilling rigs, safety vessels, oil production platforms, and heavy lift cranes. A famous example of this flexibility in usage is the Ocean Odyssey which was reused from oil activities to by Sea Launch for equatorial Pacific Ocean Space Craft launches
Tension Leg platform
A tension-leg platform or sometimes extended tension leg platform is a moored platform, it is well suited for deep water e.g. greater than 300 metres (about 1000 ft) and less than 1500 metres (about 4900 ft). A famous example is the Magnolia Oil platform in the Gulf of Mexico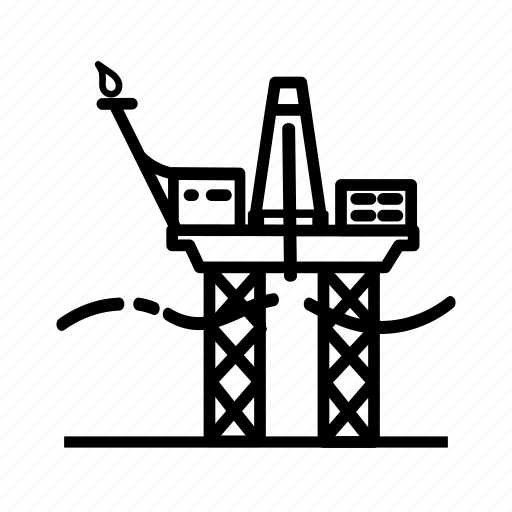 Jack-up platform
A jackup rig is a self-elevating mobile platform that consists of a buoyant hull fitted with a number of movable legs. These legs are capable of raising its hull over the surface of the sea. The buoyant hull enables transportation of the unit and all attached machinery to a desired location. You can see these structures in port as towers of steel legs above a hull. A famous example is the Maersk Innovator.
Gravity-based platform
A gravity-based platform is held in place by gravity. These structures are often constructed in sheltered deep water like fjords. When completed, a gravity-based platform is towed to its intended location and sunk where it will sit on the seabed. A famous example of this structure is the Troll A platform in the Norwegian North Sea.
Do you like the icons being used in this page? They are for sale and available on iconfinder.com as an iconset called Offshore Oil and Gas Activities. Find out more here.
Find these icons on iconfinder.com
and also in colour on iconfinder.com
We also make icon designs on order please get in touch if you would like to discuss bespoke icon designs